If you're publishing content on WordPress, not just simple posts (blog articles) but also custom posts (listings, events, reviews, products, etc.), it's worth sharing them automatically on various social networks (Facebook, Twitter, Pinterest, Instagram,…), depending on your target demographics.
You can share your publications as soon as they're published and also schedule further re-shares to revive evergreen content.
To easily schedule social media sharing, I'm using Social Pilot, which offers a very fair price for basic and advanced features (see my review).
How do you connect WordPress to SocialPilot?
You can either use a dedicated plugin ($39 per year for one site) or leverage the power of Integromat & Zapier.
I'm using both Zapier and Integromat for various automation scenarios. SocialPilot is natively integrated with Zapier, not with Integromat.
How to integrate integromat with Zapier?
The issue is that you can't create one zap rule which would be triggered by various WordPress post types (your usual blog posts and a few custom post types for instance). So you would need one zap per post type, which would very quickly eat up your zap allocation. You don't have that problem with Integromat which allows an unlimited amount of scenarios with their basic plan. Besides the user experience, this is one very practical reason why you should add integromat to your automation toolkit.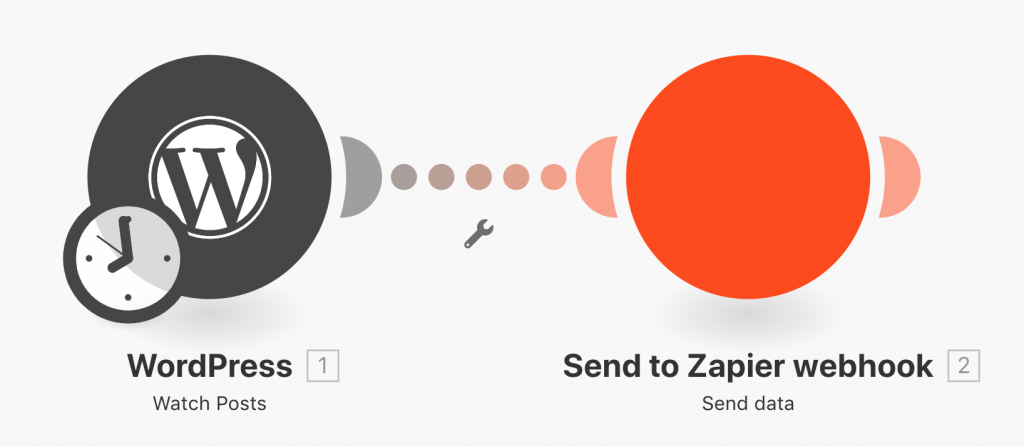 My concept is simple: create one scenario per (custom) post type on integromat and connect each integromat scenario to ONE Zapier webhook to trigger SocialPilot.
So all your integromat scenarios lead to the same Zapier rule. If you plan to share content on Pinterest, simply bear in mind that all publications will be sent to the same board. You can either set up a general purpose Pinterest board OR modify the destination board(s) in your Zapier rule before manually triggering the integromat scenario, since integromat scenarios can either be manually triggered or scheduled.